#BeWell A Wellness Series
Beginning on March 9th, the Jewish Museum of Florida-FIU will present #BeWell, a series of virtual workshops on health and wellness. This series will provide compelling arts and culture programs that examine practices of mindfulness, healing, and wellbeing, via a range of offerings such as aromatherapy and Feng Shui workshops as well as more traditional modes like meditation and artmaking.
#BeWell aims to help people develop a mindfulness practice and learn about healing arts from wellness experts working in various fields. The first event in the series, "Feng Shui Your Home & Change Your Life," kicks off on March 9 at 7pm. In this workshop, guests will explore Westernized Feng Shui and discover new ways to shift the energy of one's home and life.
The #BeWell series is sponsored by the Greater Miami Jewish Federation's Incubator Grant and sponsored in part by the Greater Miami Jewish Federation, the Steven J. Green School of International and Public Affairs, and the Program in the Study of Spirituality at Steven J. Green School of International & Public Affairs at Florida International University.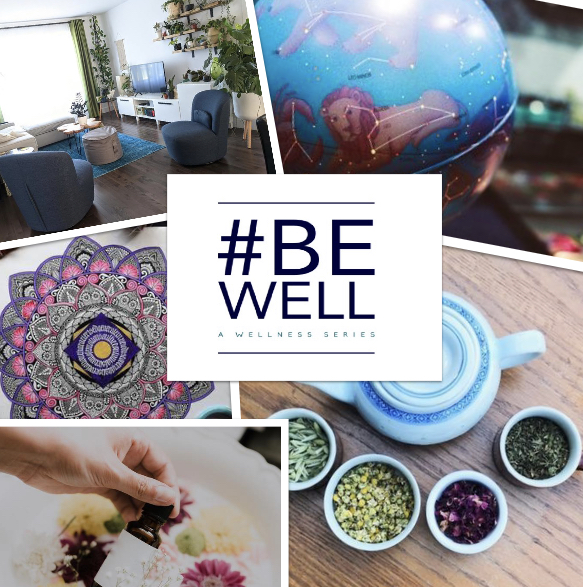 Full schedule of #BeWell programming
Feng Shui Your Home & Change Your Life
Igniting Your Creative Fire with Astrology
Learn about the astrology of the moment and tap into the astrological energies through a guided meditation/visualization to enhance our creative potential with Katy Ibur, a Chicago-based astrologer, tarot reader and workshop/retreat leader.
To view the recording, Click Here.
Essential Oils for Deeper Sleep
In this workshop, discover how essential oils can help you sleep better. Taught by Amy Galper, B.A., M.A., the class will touch on why sleep is so important to our overall health and wellbeing, and then zero in on the five best essential oils to ensure that you get a good night's rest. 
To view the recording, Click Here.
Spring Infusions & Herbs for Anxiety
Join Community Herbalist, Chelsea Taxman, for a supportive discussion about Herbs for Anxiety including recipes and other remedies to support your body and nervous system.
With support from her Jewish Ashkenazi ancestors, plant teachers, and yoga mentors, Chelsea Taxman is a healer & plant medicine maker.
The Magic of Artmaking and Mindfulness
Patricia Isis holds a Ph.D. in the expressive therapies with an emphasis on art therapy. In this hour-long workshop, Dr. Isis will work with participants to create well-being themed mandalas with simple art materials. There will be time for sharing the experience in small groups as well. No artistic experience is necessary.  
Stressed Out!!! Mind-Body Approaches to Changing How You Feel
You know that stress can come in multiple forms, but did you know there is more than just therapy or medication to help you handle it? Jason Wasser, LMFT and Certified Neuro Emotional Technique Practitioner will break down concepts in Mindfulness, Neurology, Psychology and Chinese Medicine and teach you how to minimize your stress F.A.S.T! 
War, Poetry, and Theater with Combat Hippies
Join the Jewish Museum of Florida-FIU and O, Miami for a storytelling workshop led by Iraq War vet, performance artist, and clinical therapist Anthony Torres. Torres will share how his personal and professional experiences re-ignited his passion for writing and ultimately led to his current role as writer, performer, and Executive Director of Combat Hippies – an all-military veteran theater company based in Miami, Florida. 
To view the recording, Click H
ere

.
Challah-Day Cook-Along: When Thanksgiving Meets Shabbat
Join the Jewish Museum of Florida-FIU for a Challah-day cook-along with Miami-based chef and Jewish educator Romi Naparstek! In this unique class, we'll blend Shabbat and Thanksgiving traditions to make Cranberry Orange Challah. We will also discuss some other variations and alternatives to spice up your holiday menu! Get your ingredients ready at home to cook-along or join us on screen for a demo as we come together to bake in community.  
To view the recording, Click Here.
Get Lit: Menorahs and Martinis
Celebrate festivals of light this year by joining Dammara Kovnats Hall (Jewish Cocktails) for an hour of crafting holiday cocktails centered around the themes of light and celebration. You'll learn how to make three beautiful and delicious cocktails, including one non-alcoholic cocktail, even if you're a complete beginner.